BS Entertainment & Multimedia Computing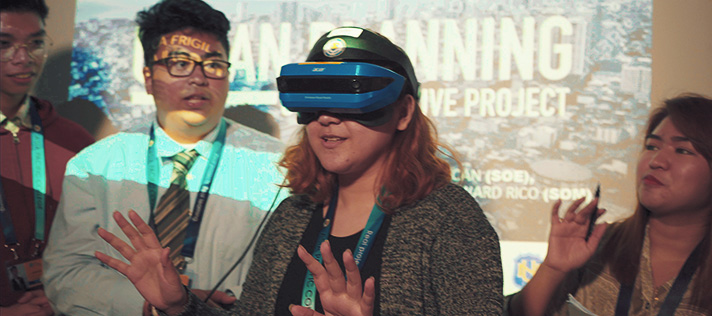 Program Description
The Bachelor of Science in Entertainment and Multimedia Computing (BS EMC) Program of Asia Pacific College is a four (4)-year trimestral degree program that aims to produce graduates that will design and develop multimedia products and solutions needed in society and in the local and global industry. It includes the design and development of applications by blending the latest Information Technology tools, animation and game techniques, industry-based programming approach, and audio-visual aspects. Such applications may be used in science, entertainment, education and advertising, to name a few.
Asia Pacific College builds on its strong game art experience with the School of Multimedia Arts and incorporates this to School of Computer Science and Information Technology's method of iterative prototyping, called "Agile Development."
While the majority of work is done on independent basis, there are numerous opportunities to develop teamwork skills with group based projects throughout the course. Asia Pacific College – School of Computer Science and Information Technology adapts the Project-Based Learning (PBL) model where theories and concepts are blended with application-oriented laboratory exercises and project experiences coupled with strong industry partnerships to give the students a complete and holistic approach to learning.
Specialization
Game Development
The goal of this specialization is to expose students to the entire game software development life cycle through Project-Based Learning (PBL) to meet industry's need of game developers as game developments continue to rise due to newer distribution systems and pervasiveness of mobile devices. Using SoCIT's PBL appoach, students form teams that collaborate on the game design and development and work in state-of-the-art computing laboratories, mentored by highly qualified faculty members. Students will be exposed to handling various roles throughout the game development lifecycle: a Game Designer who designs game play conceiving and designing the rules and structure of the game, a Game Artist who creates video game art, a Game Programmer who primarily develops video games or related software (e.g game. development tools), a Level Designer who creates levels, challenges or missions for computer and/or video games, Sound Engineers who are responsible for sound effects, voice acting and other sounds, and Testers who carry out quality assurance.