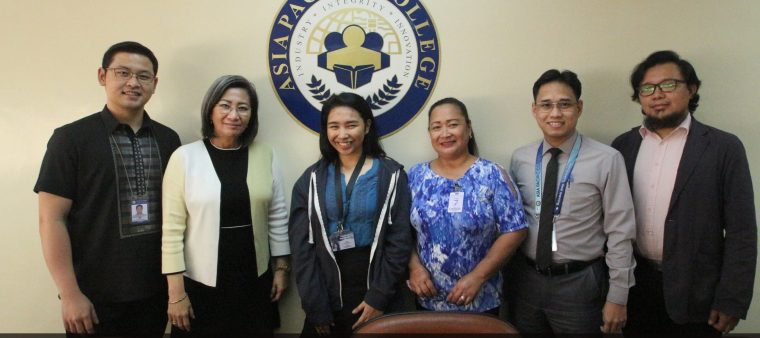 The APC Senior High School is a two-year educational program designed to open doors to senior high school graduates who intend to work and, later on, pursue a college degree. It is intended for Junior High School Graduates and those who started but have not finished a college course. In consortium with Don Bosco Schools and TVET Centers, and the Manila Times College, Asia Pacific College was first among the Private Higher Education Institutions (HEIs) and the only HEI who models the Academic Track through the ADM Higher School Model. Students who are enrolled in the program have greater opportunities and advantages to get hired in IT-BPO Companies after two years.
Asia Pacific College, in partnership with the Information Technology and Business Process Association of the Philippines (IBPAP), is working hand-in-hand with the Department of Education (DepEd) and Commission on Higher Education (CHED). IBPAP has over 200 IT-BPO member companies in the Philippines with a wide range of professional jobs where APC Higher School Graduates can work at an entry-level for voice and non-voice sectors, Information Technology and other support functions.
The recent partnership between APC and DepEd-Makati City and DepEd-Pasay City Divisions sealed APC's role of being the G11 & 12 delivery HEI to the Junior High School Graduates of Pasay and Makati City. Both divisions commended APC for its initiative and effort in modelling the Senior High School and bringing it to their doorsteps.
Indeed, APC continues to be the emblem of real projects where real learnings happen.
Strands
STEM | ABM | GAS | HUMSS
The School of Computing and Information Technologies sponsors the Grade 12 IT Innovation Bootcamp for 3rd Term SY2020-2021. This bootcamp requires the students to develop systems in a role-based, interdisciplinary, and agile scrum approach, mentored by Accenture in weekly meetings. As the students prepare to build the system, they attend various masters classes that teach them the agile framework, python programming, software testing and, presentation and pitching skills. The students also are given an opportunity to earn badges. To date, there were a great number of these students who already earned the globally recognized Scrum Foundation Professional Certificate (SFPC).
Below are some of the student projects presented last 3rd Term, 2020 – 2021:
Meditect (2021)


MediTect is a website that lets users search the most equipped clinic, health center, and hospital in the nearest location possible. This was a proposed solution for the team's clients Sgt. Ma. Jelu B. Bundal and Nurse Melvie B. Urbanozo, who claim to have difficulties with: (1) knowing the availability on doctors and services since this information are hard to find or unavailable on their platforms at a given time; (2) finding the closest hospital from a given location; (3) lack of information as which healthcare facility has the proper equipment and/or facilities to treat a patient; and (4) a background of the healthcare facility. To solve this problem, the team offered a solution which allows users to know information about the facility's contact information, address, availability, and provided services. 
By: 
Alimodian, Guen Joy B.
Angat, Daniel Andrey D. 
Brela, Ma. Gracia Kim 
Bueno, Jonathan Angelo C. 
Sensico, Ma. Regina B.  
Viadoy, Keisha Maury R. 
Gatilyo (2021)


Mobile phones are very common recently that it has become a necessity for the part of the population who owns them. According to Elliot (2020), mobile games have been a common trend to all ages alike, as a 74% of the Philippines' online population plays mobile games. 
Traumatic events can be a typical part of a child's life. With this in mind, there can be mobile games that can enable the gamers to understand trauma and help victims cope with these traumatic experiences. 
Steam is one of the biggest game engines in the market. For the years 2015, 2016 and 2017 there are 450, 685, 1107 new indie games released respectively. As of May 2021, there are 56,363 indie games worldwide. Indie Festa, an online convention for indie games, was held from November 9-15, 2020, had only 32 Filipino indie games in its roster. With most of the topics revolving around Philippine mythology, culture, or just plain for fun, there is a lacking amount of games that goes into a more serious social issues that this country faces. 
Gatilyo is a 2D platform game that aims to spread awareness and help sexual abuse victims cope up with their trauma through smooth gameplay and enjoyable mechanics. After playing the game, gamers can learn about trauma and potentially help those who experienced trauma to cope. While victims can also find this game helpful in coping, generally, it can offer gamers the knowledge about the meaning and weight of trauma through environmental storytelling and implementation of smooth gameplay and colorful visuals.
By: 
Chavez, Humbert Edgar
Garcia, Vieron Jhomel
Laigo, Lerdel Yuri
Mancao, Julia Claire
Pajarillo, Kevin Michael