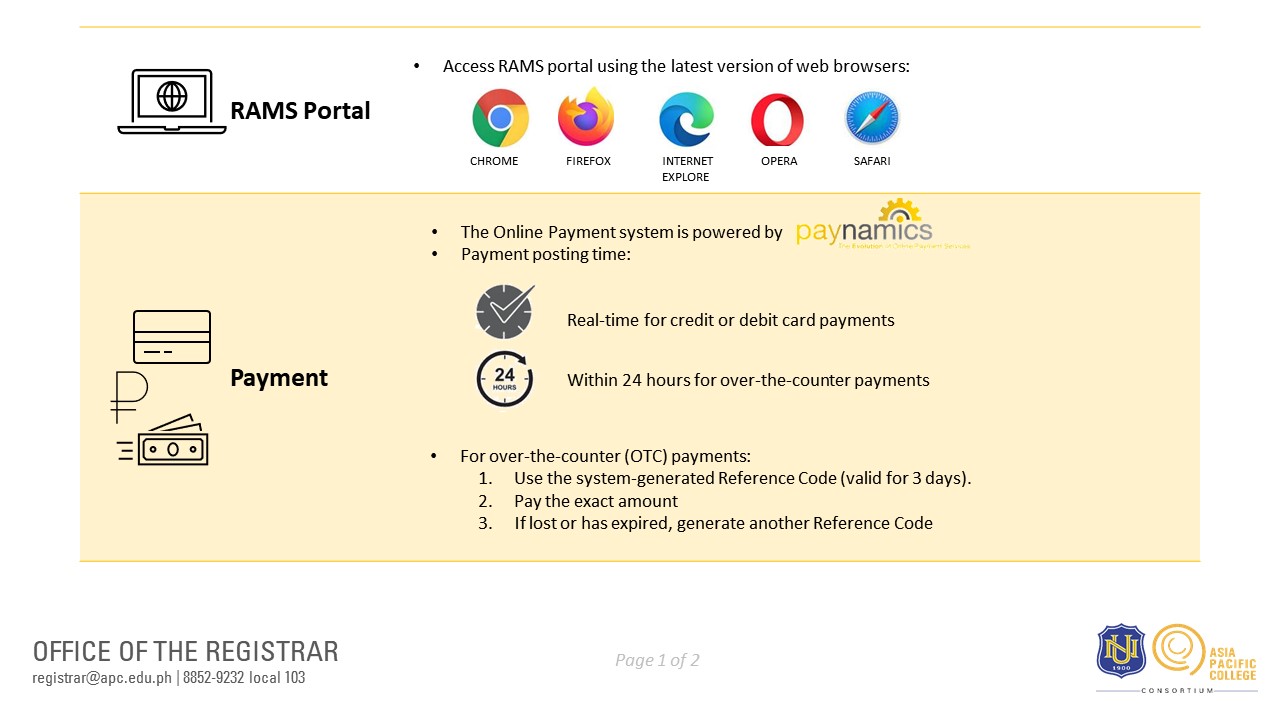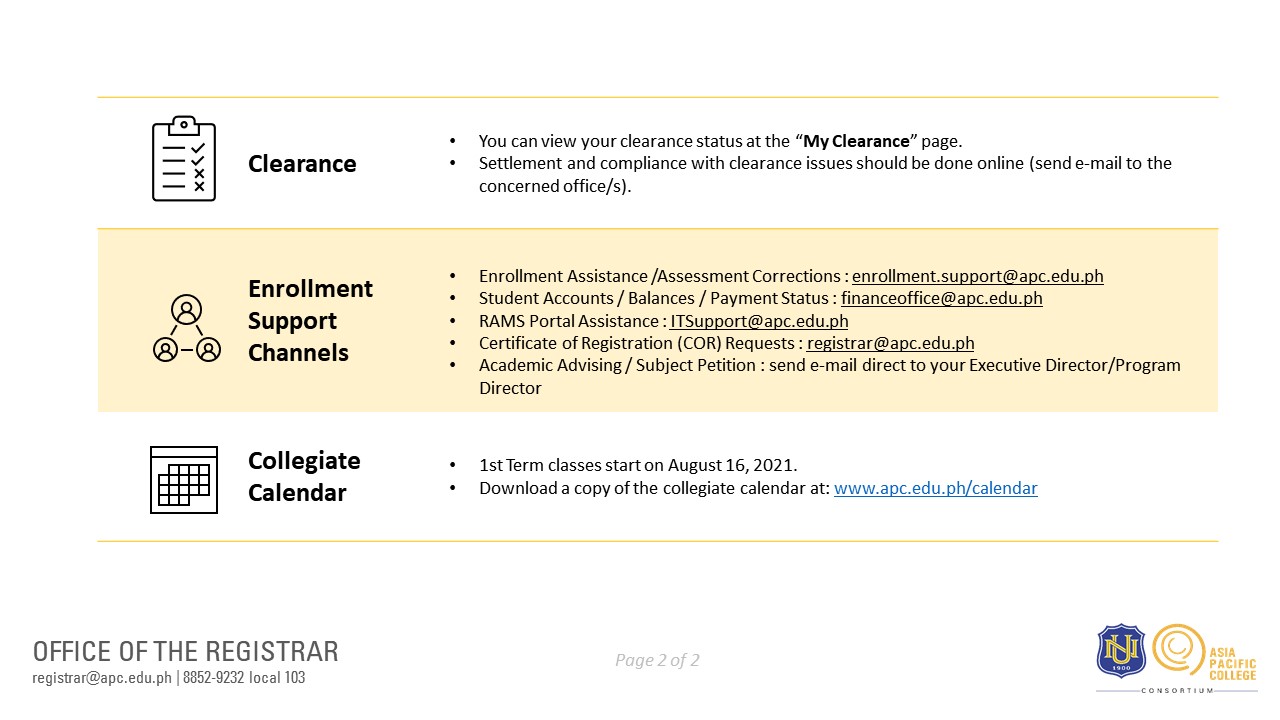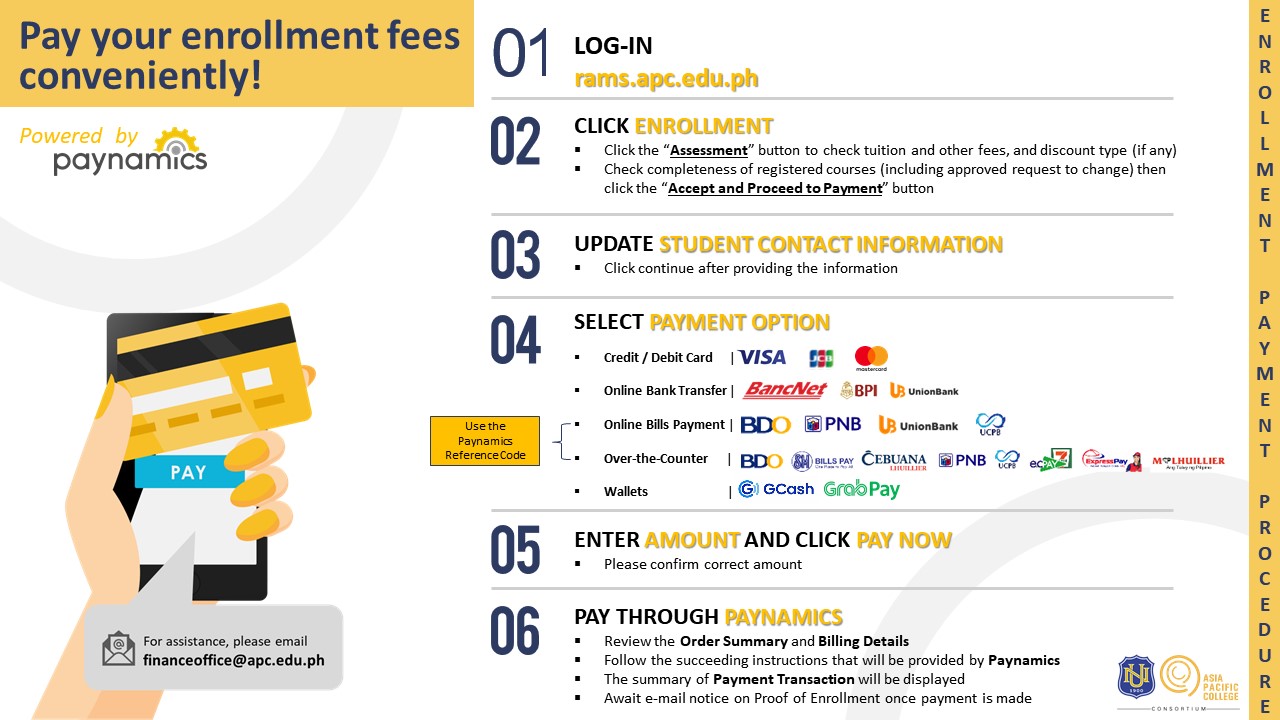 Dear Rams,
Please be informed that the Collegiate Online Registration for the 1st Trimester, Academic Year 2021-2022 is scheduled on May 31 to June 11, 2021. Don't forget to review and accept your assigned courses and schedule by clicking the CONFIRM button in your Registration module.
Be guided by the procedures below.
ONLINE REGISTRATION PROCEDURES:
A. LOG-IN : Access the student portal at https://rams.apc.edu.ph and click the Registration module link.
B. VERIFY : Pre-Registered courses (subjects) page shall reflect pre-registered courses based on your assigned block section and curriculum flowchart.
C. REVISE* : You may skip this process if not adding or removing courses.          
To add a course: Click the Add Subject button and select the course that you wish to add. Indicate reason for adding in the Remarks section, then click the Add button.
To remove a course or change section: Click the Modify Subject button and select either Change or Remove action. Indicate the reason for removing the course or changing section, then click the Modify button.
Click Save to commit the changes and wait for the approval of your Executive Director.
D. CONFIRM : Click the Confirm button to accept the registered courses.
Save a copy of your Registration and Initial Assessment.
Initial Term 1 Assessment will be available for download starting June 14, 2021
Registration is required for all students who are enrolling for the 1st Trimester Academic Year 2021-2022. Online enrollment for the 1st trimester will be on July 19, 2021 to August 12, 2021, and shall only be available to students without clearance issues.
You can view your clearance status through the "My Clearance module" at https://rams.apc.edu.ph. Settlement and compliance with clearance matters should be done immediately.
For Online Registration assistance, e-mail enrollment.support@apc.edu.ph.
PRE-REGISTRATION AND ENROLLMENT
Term 2: October 26-November 21, 2020
Term 3: February 15-27, 2021
Term 1: May 24-June 4, 2021
Term 1: July 1-August 13, 2020
Term 2: November 23-26, 2020
Online enrollment Download Links