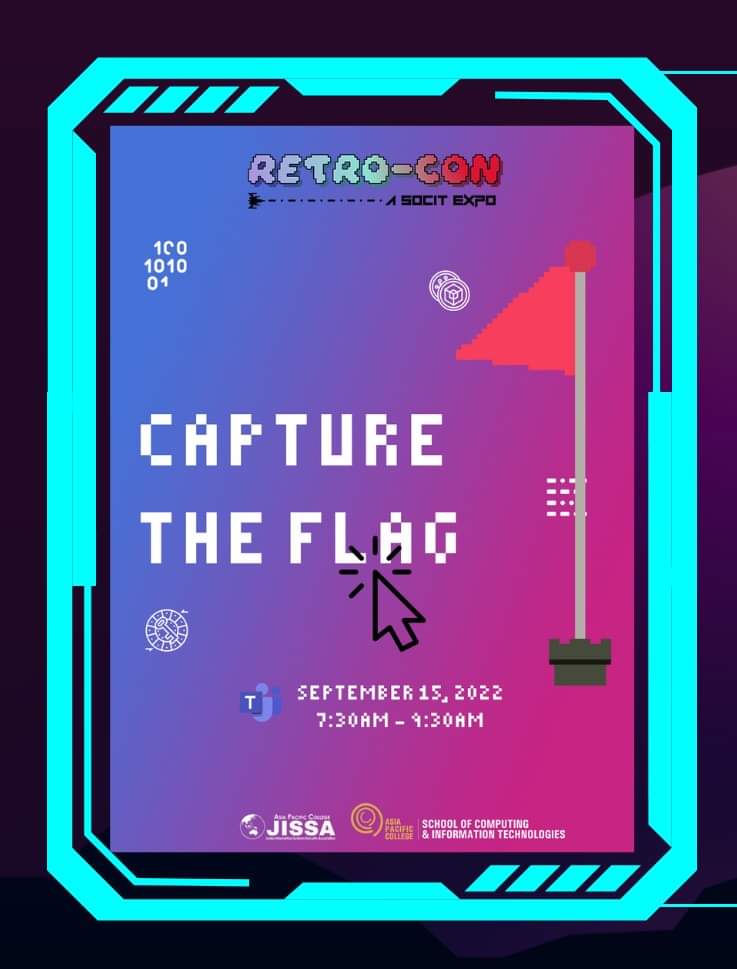 Article by: Donna Loyola
Bachelor of Science in Computer Science (BSCS) Major in Cybersecurity and Forensics students gathered for the Capture the Flag organized by the Junior Information Systems Security Association – APC (JISSA) last September 15, 2022, at Room 608 of APC.
Capture The Flag is a cybersecurity game that enhances the skills of students in defending or attacking a computer resource through a game. The event aims to empower the minds of the participants and enhance their skills in problem-solving all the while improving their cryptography, stenography, and other related technology skills to utilize tools when it comes to encrypting and decrypting data.
This was hosted by John Michael Gonzales along with four game masters: Jose Gabrielle Rivera, Neil Angelo Dela Cruz, Angelo Laus, and Max Chaves.
During the event, the game was divided into three levels of difficulties: Easy, Intermediate, and Hard. Every participant poured their knowledge and skills against other teams as they fight to win the games. The event ended with three groups claiming the title of the Grand Winner, First Place, and Second Place. The participants and groups were as follows:
Titan Enjoyer – Grand Winner
Gonzales, John Michael

Francia, Zach Justin 

Padillo, Lyanna Marie
OnePiece=Real – First Place
Noynay, Alexandra

Villanueva, Klarenz Aterrado

Fidelino, Akira
Hakudogu – Second Place
Nazareno, John Rey

Dumagpi, Allyza

Morta, Danni Raphael
The JISSA organizers were glad that they were able to share their knowledge and expertise when it comes to cybersecurity, and were thankful for the people who made the event successful.