Asia Pacific College (APC) and Kroll Global Solutions, Inc. recently signed a Memorandum of Understanding (MOU) last May 24, 2023, at the APC Boardroom. 
The agreement between Kroll Global Solutions Inc. and APC aims to further strengthen the School of Computing and Information Technologies (SoCIT)'s curriculum through knowledge-sharing in the field of cybersecurity. 
School of Computing and Information Technologies Executive Director Rhea-Luz Valbuena and Academic Services Executive Director Jo Anne de la Cuesta formally signed the agreement along with Rose To and Dave Kothari of Kroll Global Solutions.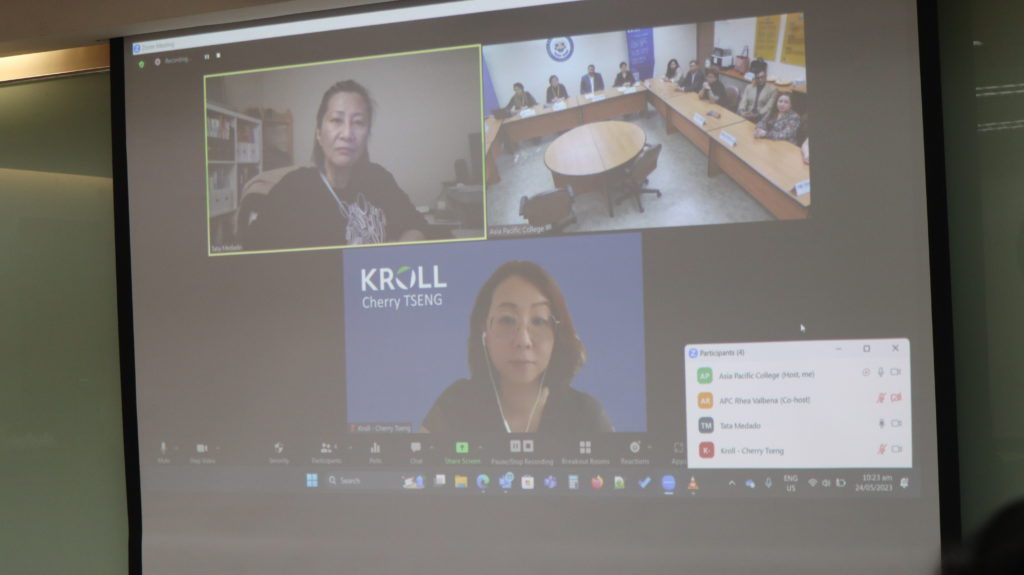 "We welcome your presence in APC because we deserve the better education for our students," APC President Dr. Teresita Medado shares via Zoom during the MOU signing. Dr. Medado believes that the partnership between Kroll and APC would further equip APC students with the necessary skills and competencies to create real-world solutions. 
"We're all excited to work with APC together in nurturing young talents and expand our talent communities in Philippines," University Talent Acquisition Manager II Cherry Tseng adds. 
Meanwhile, Kroll Global Solutions Inc. Cyber Risk and Offensive Security Vice President Timothy John Cristobal conducted an Offensive Security 101 workshop with SoCIT Students, where they discussed how students can protect, detect, and respond to various cyberattacks.