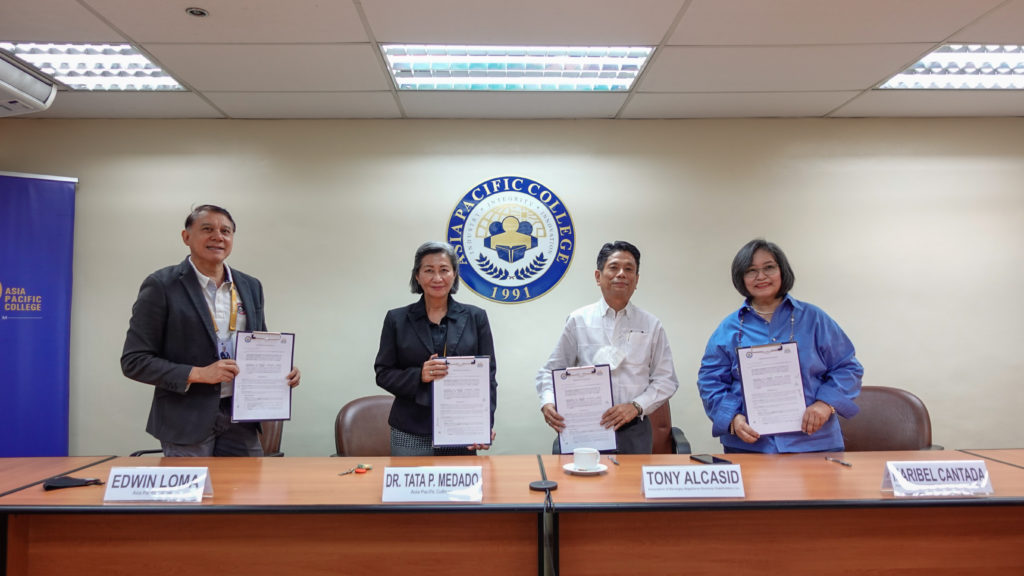 APC President Dr. Teresita Medado, along with ABMBSI President Antonio "Tony" Alcasid as well as School of Management (SoM) Executive Director Edwin Loma and ABMBSI Board of Trustee Maribel Cantada pose for a photograph during the MOA signing held in APC Boardroom last January 19, 2023. Photo by Jervis Gonzales
Asia Pacific College (APC) and the Association of Barangay Magallanes Businesses and Stakeholders, Inc. (ABMBSI) signed a Memorandum of Agreement (MOA) last January 19, 2023 at APC Boardroom.
The agreement between APC and ABMBSI is an effort to jointly engage in programs, projects, and activities such as skills and competency enhancement for students, curriculum enhancement through faculty development, and job placement opportunities.
The partnership is an initiative spearheaded by Barangay Magallanes Chairperson Jomar Alzona, along with ABMBSI President Antonio "Tony" Alcasid and ABMBSI Board of Trustee Maribel Cantada.
The partnership is expected to benefit various SMEs, startups, homebased businesses, and other business owners within Barangay Magallanes.
APC and ABMBSI are currently planning to develop a virtual office to address the needs of the business community in Barangay Magallanes, which can further help the Association's vision of promoting commercial interaction, growth, and employment within the business community. 
Some applications that will be incorporated by APC students in the virtual office include Barangay Magallanes App, which features emergency and incident reporting capability for businesses and residents; Uberangay, a localized ride-hailing app; and Barangay Magallanes Business Directory, a mobile app allowing quick access to ABMBSI's database of members, professionals, and service providers. 
Ms. Glenda Sy will be guiding APC students in developing applications such as Barangay E-Services, an online portal for local government services; Barangay Magallanes GMIS, an app that allows users to monitor benefits from the LGU and improve existing LGU services; and Barangay Magallanes Traffic Advisory/Weather Monitoring System, a project done in coordination with Makati Disaster Risk-Reduction Management System (MDRRMS) that aims to provide a solution for weather and traffic information. 
The planned projects and partnership is expected to further strengthen APC's commitment to its students through "Real Projects, Real Learning."